Chainsaw Refurbishing Services for Professionals
Chainsaw Rebuilding Service
Choo Choo Lawn Equipment has been offering certified chainsaw rebuilding services to our customers for over 10-years.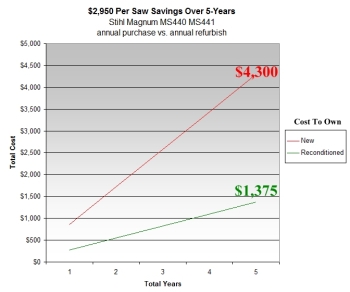 Our professional process is convenient, affordable and second to none in the industry. Now we are making this quality service available to you. Don't settle for over-purchasing new equipment, when you can quickly have it fully reconditioned, certified, and guaranteed by us! And at a fraction of the cost of buying new.
Low Cost - High Value
Our process has saved our professional customers thousands of dollars each year on costly repair or replacement
of chainsaws and other high value power equipment. Many professional chainsaws for example can be completely refurbished for only $275. Compared to repurchasing multiple pieces of new equipment annually, our annual rebuilding service can save YOU thousands each year too! Now you too can enjoy the savings that our customers have enjoyed. Compare the savings when using our service annually vs. the cost of buying new. Imagine what the savings would be if you use our annual rebuilding service for all of your professional chainsaws?
Our Specialized Chainsaw Facility
Using our state-of-the-art specialized facility, we also have the ability to diagnose root causes of failures,
properly correct and repair the consequential damages reducing costs and down time. This level of expertise and diagnostic equipment, typically only found in manufacturing R & D facilities, is what differentiates and positions us as the service authority in the professional power equipment industry.
All units are thoroughly cleaned using a combination of aqueous washes, petroleum solvent washes, and ultrasonic cleaners. Final assembly is then performed with cleaned parts, in a clean room environment.
We verify the power and torque your engine is making with our onsite dyno.
A clean, well lit workspace makes for accurate and complete evaluation, repair, and final assembly. All critical dimensions are measured, set, and inspected to assure the integrity of the process. All units are then reassembled to strict factory specifications and tuned to like-new operating condition. Each fastener is torqued and marked for quality assurance.
Proven Techniques
We offer chainsaw refurbishing services not commonly available for any outdoor power equipment.
Using proven techniques and processes patterned after those found in the aircraft industry. Included with your professional chainsaw rebuild, all engine assemblies, carburetors and crankcases are thoroughly tested by the best certified technicians in the business.
A Complete Rebuild Process
Our complete refurbishing process is similar to the annual audits performed on aircraft.
The specifications are basically the same; thoroughly evaluate the condition of the entire unit, replace high wear short life components BEFORE they fail, and assure reliable service of the machine until the next scheduled inspection. In most cases your chainsaw will perform better than new. This is in-part because we final tune all chainsaws using pump fuel, NOT special factory assembly mix. You will notice the difference!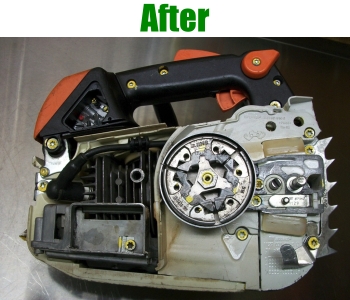 With our rebuilding service, all sub assemblies are removed - such as the fuel system, anti vibration system, handle assemblies, etc. The unit is thoroughly cleaned using aqueous washes, petroleum solvent washes, and ultrasonic cleaners. All components are thoroughly inspected. Assembly is then performed with cleaned parts, and each fastener torqued and marked for quality assurance.
All critical dimensions are measured, set, and inspected to assure the integrity of the process.
The unit is reassembled to factory specifications and tuned to like-new operating condition.
Proven Process
Meticulous component inspection, preparation, and attention to detail on every chainsaw part prior to assembly and onsite dynamometer testing.
Your engine is properly tuned in, using your fuel. So your saw runs to its fullest, better than new performance and longevity!
Dry, safe, leak free operation. No surprises, we test everything so you can depend on your refurbished chainsaw for many months to come.
Adjusted and fine tuned. Our attention to detail will give you the reliability you expect from your chainsaw.
No short cuts. Our proven process has kept our customers coming back year after year. Experience the best today!
Our Complete Rebuild Service Includes:
Complete cleaning of all sub assemblies and components
Service of individual sub assemblies
Service of OEM recommended annual service items
Replacement of all short life, high wear, critical components
Clean all unit exterior and critical cooling system components
Rebuild of carburetor with replacement of all wear items & soft parts
Spark plug replacement
Adjustment of air fuel ratios for both low and high speed fuel circuits
Disassembly of unit to crankcase
Complete sonic cleaning of unit, parts and sub assemblies
Inspection of cylinder
Inspection of piston and related components
Inspection of crankshaft
Inspection of crankshaft bearings
Compression testing - assures jug & piston integrity
Crankcase vacuum and pressure tests - assures case integrity
Disassembly of fuel system, replacement of fuel lines, vent hoses, filters
Disassembly and rebuild of recoil starter
Recoil rope replacement
Disassembly and inspection/repair of clutch/drive system
Ignition & kill system cleaning, inspection and assembly with proper clearance
Cooling system cleaning, inspection for cracks / damage
Replace crank seals, cylinder gasket
Sharpen & oil all chains using Franzen machine
Priority 2-day return shipping back to customer
Complete Rebuild Service Does NOT Include:
Inbound shipping to our facility
Piston / cylinder replacement
Crankshaft replacement
Crankcase damage repair / replacement
(above additional items will be reported and quoted to customer as needed, certified used components may be offered at significantly reduced cost)
Factory Authorized Service Center
Choo Choo Lawn Equipment is a factory authorized sales & service center for Stihl and Husqvarna power equipment.
We created a specialized facility providing customers with high quality rebuilding and repair services for their professional chainsaws, pole saws, cutoff saws and other high value professional power equipment.
Factory Certified Tools & Technicians
We have factory certified technicians and the factory tools and equipment to properly diagnose and repair any non functioning unit, and
the ability to reduce costs through certified rebuilding of all components such as; cylinders with stripped spark plug threads, cases with thread damage, and much more.
180-Day Warranty
The professionals at Choo Choo Lawn Equipment are so confident in our system and processes, that we provide a 6-month / 180
day warranty for all units that have gone through our chainsaw refurbish process. This 180-day warranty is DOUBLE the original 90-day factory warranty provided to professional users on new units by the two major chainsaw manufacturers. We stand by our service! Our warranty is our commitment to you, of our workmanship and unmatched quality. Click here for complete warranty details.
Top Quality Parts
One of the reasons we're so comfortable with our 6-month 180-day warranty is the high quality of the parts we install. We use parts that have stood the test of time, year after year. They exceed guidlines for fit, form, function, and durability; and are manufactured to strictest performance standards.
Certified Used Parts
We also have our own collection of certified used parts available to assist our professional customers in keeping their total cost down on all complete chainsaw refurbishing.
We Buy Worn Out Chainsaws
Contact us today to quickly sell your old worn out chainsaws. Turn that pile of saws into cash. Whether you have 1 or 100 we'll pay cash, and have them picked up. Contact us for complete details!
Get Started Today!
So what are you waiting for? Call or email us today, and see why Choo Choo Lawn Equipment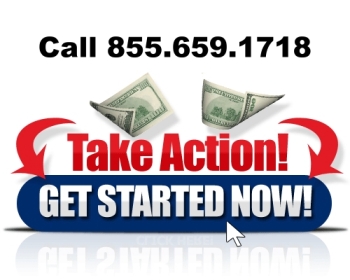 is the #1 choice for rebuilding chainsaws, and other high value professional power equipment! With affordable rates: our complete professional chainsaw rebuilding service is more affordable than ever, with average rates of $275! And return shipping back to you is always included.